Shopping Reminder

Our rock cushions offer you two options when purchasing: filled and unfilled cushion covers.

If you choose to purchase the unfilled cushion cover (which is definitely tempting for the price), then you will need to fill it with a soft, sturdy yet fluffy filling, or you can fill it with your old clothes, old sheets and other textiles. Doing so will help you save some of the cost of your purchase. You can also pick up one of our individual fill packs for stuffing (Premium Polyester Fiberfill). But please note: our rock cushion is different from the pillows other merchants are selling, and if you want it to be perfect, you'll need to fill it with at least 10 pounds of polyester fiberfill, which would probably cost you $40 for it if you bought it on Walmart. And you will need to fill it yourself (our cushion covers come with invisible zippers).

If you shop for a stuffed rock cushion, we will save you all the above hassle and guarantee that the stuffed polyester fiberfill inside is brand new, best quality, healthy & ready for use immediately.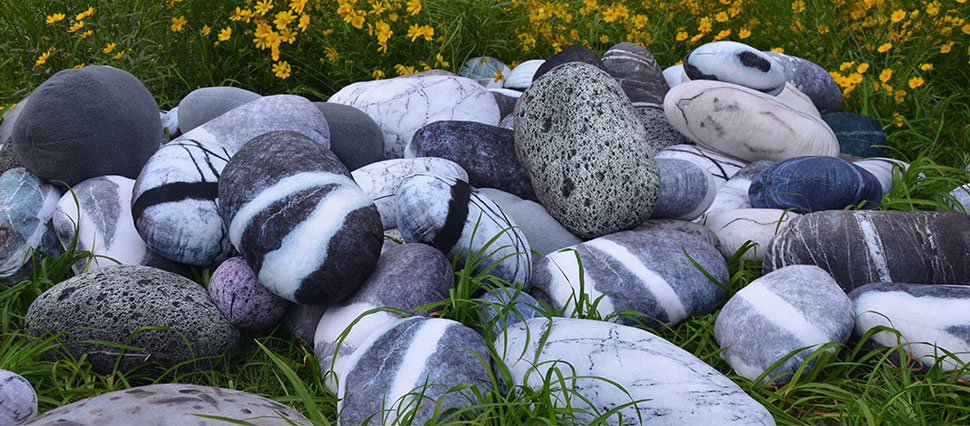 About design:
True To Nature Design: In the shape of pebbles, these rock pillows resemble the nature stones so well that you even doubt whether they are really pillows. More amusingly, we've designed series of clear "stone veins" simulating the real in nature just hoping to bring you more liveliness and loveliness.
The lovely cobblestone gemstones are designed with pillows, and the designer enters nature into our home with friendly design. These will make a beautiful home, or a kid's room.
If you only purchased the pillowcase, then you can fill it with your old clothes, old socks, old sheets to make it look like a rock and it is a convenient and practical storage bag.
| SIZE | DIMENSIONS | PRE-FILLED WEIGHT |
| --- | --- | --- |
| #1 | 30x17inch (76x44cm) | 3000g |
| #2 | 23x14inch (59x36cm) | 1600g |
| #3 | 21x12inch (53x31cm) | 1300g |
| #4 | 20x11inch (50x29cm) | 800g |
| #5 | 15x9inch (39x24cm) | 500g |
| #6 | 12x8inch (31x20cm) | 350g |
| #7 | 8x8inch (20x20cm) | 200g |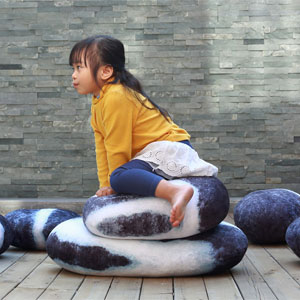 Kids Playground
It can be used in children's entertainment areas, kindergartens, nurseries, schools, etc. It is an interesting toy for children!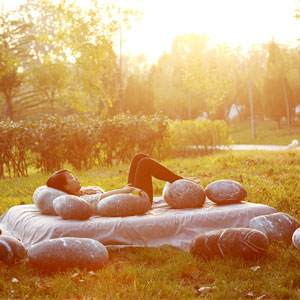 Photography Props
Used for character photography, product photography, video, stage performances, etc.,It is a novel prop!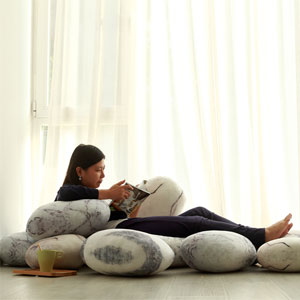 Exhibition Decoration
Used in bedrooms, children's rooms, living rooms, floors, study rooms, exhibitions, bookstores, coffee shops, etc.,As a decorative pillow.Safe and comfortable pillows.
About filling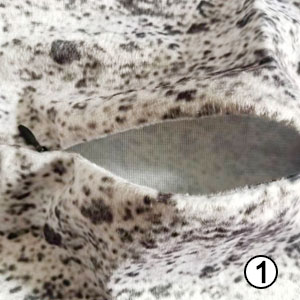 1. Open the Invisible zipper
At first, some customers complained that the zipper opening was too small. We have enlarged the zipper opening in the latest products, which is more convenient for loading and unloading.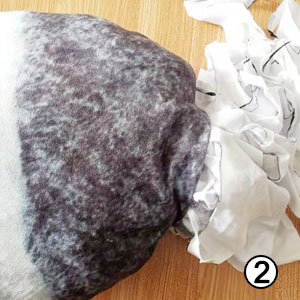 2. Filling
Use high-quality fiber fillings, other pillow fillings, your old clothes, old socks, any old textiles, or plush toys.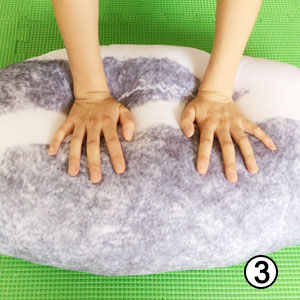 3. Finishing
Rub them strongly to make them more beautiful in shape and more comfortable to use.
As we've found, there just aren't stone pillows as realistic as these. These pillows do more than just provide a comfortable place to sit or a peaceful and uninterrupted night sleep, they amuse their owners and make their home that much more personal.
The set comprises Seven round-shaped pillows. They're filled with a premium fiberfill, made up of an anti-pilling 100% polyester, and feature a hidden, well-built zipper.
Furnish your home in a natural style and enhance the beauty of each room with these exceptional stone pillows. Try them in your bedroom, living room, play area, or office space for a distinct adornment you won't find anywhere else.
Plus, it's a unique gift for your loved ones. Help them redecorate with their own set of Pebble Pillows!
Sturdy Stones To Set Your Mind At Ease
There may be no more soothing sound than listening to birds chirp throughout the forest while water babbles down a stream, slowly but powerfully sanding down stones and transforming them to pebbles.
Stones and pebbles may not seem like an obvious choice for interior design, given their abundance outdoors, in forests and gardens and deserts.
But with these lifelike stone pillows you have a way to bring an emblematic piece of nature without risking damage to your floors, furniture, or family. They're soft to the touch, comfortably filled with premium fiberfill, and realistic enough to add a delightful natural touch to your living room or bedroom.
If you've just moved into your new home or apartment, you're likely dealing with a thousand design choices at once. What color to paint the walls, what size bed to get, and who gets to pick their side of the closet first.
While all of these decisions are important ones, you don't want to overlook the small decisions With the right creative pillow choices, you can make your living room more comfortable, more interesting, and most importantly, more you.
Because after all, our homes are made for us.
A Stone Pillows Set For A Cozy, Natural Vibe
Stone pillows that come in a set of seven are a great way to complete a living room, adding visual variety, practical comfort for multiple guests, and a touch of nature that can be hard to find in today's emphasis on minimal, modern designs.
You can break up a room that feels cool and stark with the attractive qualities of these pillows, available in light and dark shades and multiple sizes. Plus, these are throw pillows that can be thrown around in that they're durable enough for families with kids. Don't get caught up in the idea pillows have to be delicate and fragile. Get comfortable with some stone pillows for a creative solution your living room will benefit from.
Really Sink Into Relaxation After A Long Day With These Boulder Throw Pillows
When it's time to step up your home's interior design, you need to check out these Jumbo Decorative Stone Pillows.
In an ellipsoid shape, these attractive dark grey pillows with white veins resemble giant stones that would drive any geologist wild. Instead, they're made for comfort, the kinds of pillows you can sink into after a long day at work.
Get the kind of comfort that's worth talking about with these stunning, unique Jumbo Decorative Stone Pillows.
✔ Your Home Beautified – These stone coloured cushions are the perfect size to add a statement to inside your home, or your indoor patio. Pairing perfectly with naturally filtered light, these stone pillows really come alive when shown against the natural world.
✔ Toddlers to Teens – Kids who may not always understand interior design will love these Jumbo Decorative Stone Pillows, a simple, satisfying set of pillows that would easily make any kid's room more fun and more comfortable.
✔ Stones That Shine – Looking for a creative prop? Look no further than the Jumbo Decorative Stone Pillows, a set of pillows that are just as at ease making your home more comfortable as they are providing the backdrop for a photoshoot or adding a flair to your home studio.